Ok, two things.
First, Ninja F and I have been busy trying to recover from
Numseh
hijacking our NinjaCopter and gallivanting off to Paraguay to visit the e-lover he met on Match.com. Unbelievable, you guys have no idea how much trouble that kid causes sometimes. He's barely worth the
lemons
we pay him. The lemon sale at Wal-Mart is enough for a year of his work, so we keep him around.
B: happy holidays from NinjaCamp! I have created a special e-Card for you all to forward to friends and family. It's our special way of saying thanks: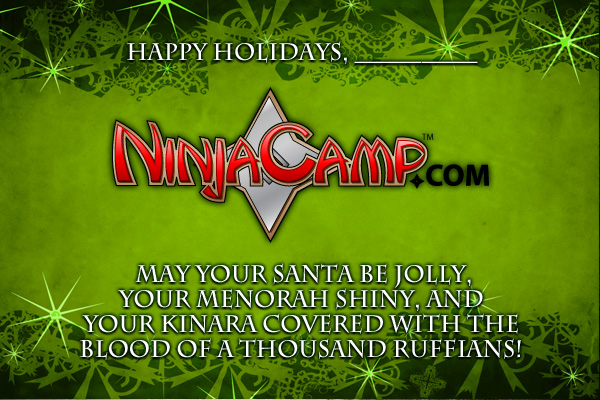 Fourth, I need to tell you a little story about a boy named Ninja J. You see, when I was a young lad, before I killed my brothers, we would all gather around the Commodore 64 at night and play games together. You know what Ninjas played on the Commodore 64?
M.U.L.E.
unless you were an asshat (read that Wiki entry, the backstory of M.U.L.E. and Danny Bunten is interesting).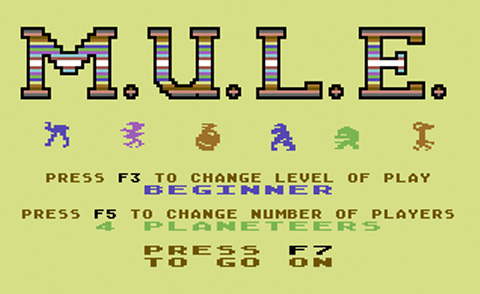 That game is one of the best games EVER INVENTED. If you don't know why then you are depriving yourself and your ancestors of a giant slice of awesome. M.U.L.E. is the reason I still have a Commodore in the closet of my dojo. The reason I bring this up, esteemed readers, is because our good friend Tobbo just told us about
PlanetMULE
. Now you can play M.U.L.E. online! I urge you all (which means I will kill you all if you don't) to go there and play with some friends over the holidays. You will not regret it. It's good to have a small island of sweetness in a sea of total crap games.
Take care and get ready for Season 2 of NinjaCamp.com coming after the holidays when our jobs get off our fucking sacks and allow us to entertain you thoroughly as we prepare for KielbasaCon 2010!