My sweet baby is home at last. I've wanted an
Atari Food Fight
arcade cabinet for as long as I can remember, and
I finally got one!
I mean...NinjaCamp corporate has finally got one! (tax laws are fun).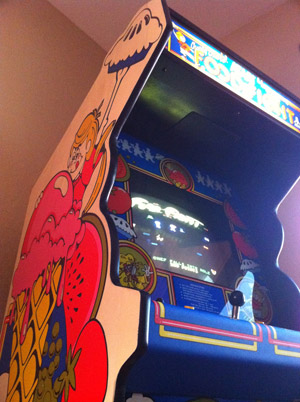 The game came to me via my good friend eBay where I just so happened to stumble over the auction for it while tooling the web. Right out of the box, she was a real beauty. All original, artwork and electronics, no damage to her sleek figure, and coin slots so tight they can barley accept a nickle.
Oh yes, she's quite an amazing creation, and she's now all mine!
I've already done a little bit of restoration just to make sure that she keeps on looking as fantastic as she did right out of the factory. Thanks to yet another eBay auction, I was able to get a brand new control panel overlay, which really lifted her spirits. On top of that, I found a brand new gimbal joystick to tighten her play to the maximum level.
If you've never played Atari Food Fight, you're missing out. It's probably one of the best games ever made,
and nobody has it...KielbasaCon does
!
You can all look forward to seeing Ninja F high atop the Twin Galaxies scoreboard in no time.