Let me start by saying, I'm tired of this
Glee shit
! I go away for a week and a half just to find out that NinjaS damn near sold the company to Fox's Glee!
I mean, sure...nobody will buy our video game related shirts...and I mean, we haven't quite produced our spectacular vapor-ware game...but really?? No more glee, let's just get back in the action and start talking about video gaming...and maybe the
Infinite Loop
.
So without further adieu let me introduce you to an ass beating...icon style!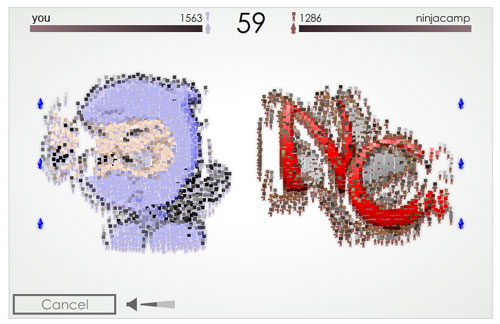 Just enter in your Twitter account name vs. our Twitter account name (NinjaCamp) and watch the impending battle. If you don't have a Twitter account, no problem...just enter NinjaCamp and click random opponent, then cheer us on to victory!
You see, I found this kick-ass Japanese "
Dot War
" game which pits your Twitter icon against our
Twitter icon
...suffice to say, you're getting a beat down.
Test your luck bitches!