For Golden Sausage Rules and Category Descriptions
Click Me
.
---
EliminatePro : iPhone
Pooping and Fragging at the same time wasn't on my list of things I believed to be possible when I first played an FPS, but ElimatePro proved me wrong! From the brilliantly laid out controls, to the silky smooth online death matches, EliminatePro touches you in all of the right places.
Better yet, it's 100% free to play! The game implements a very nice pay-to-play mechanism that makes it fun for both players who choose to pay for upgrades, and players who choose to work for them. I'm personally the latter, but don't think that I haven't tossed a few dollars into the fray. Ultimately it's great to play with all of the cool toys, and sometimes you just don't want to wait two weeks for that face shredding rocket launcher.
The icing on the cake is that the game gets frequent content updates including new maps and items. That's just the kind of thing I need while my turtle head is poking out. That's why EliminatePro wins the 2009 Bronze Golden Sausage : Ultimate Pooper.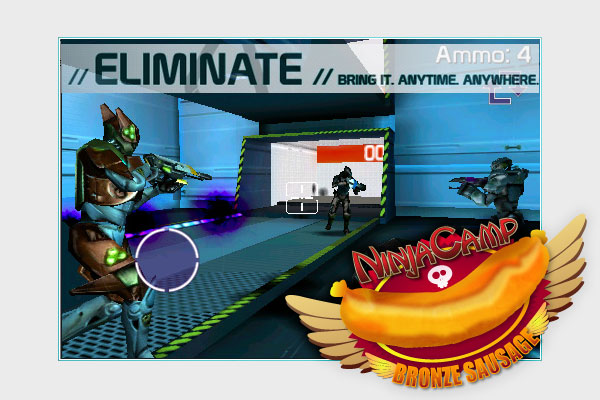 PacMan C.E. : iPhone
PacMan C.E. (Mobile) takes the fantastic game developed for the Xbox Live Arcade and slides it right into your pants. With almost no loss of quality or fun, this is the ideal game for playing in short bursts...from your ass.
By adding a whole new section of trials and challenges, the game goes from a one-night-stand to a live-in hooker. Additionally, they've re-imagined a whole new list of "championship" levels which are sure to please.
I think the only thing that keeps this game from winning the Golden is the lack of online leader-board. I mean, come on...what good is PacMan C.E. unless I can show off my Billy Mitchel skillz?
Well, it's OK...we still love it and think it's worth every inch of the 2009 Golden Silver Sausage : Ultimate Pooper.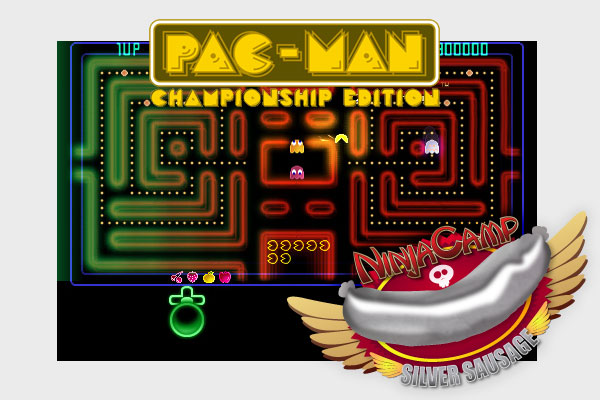 Jungle Style Pinball
Pinball video games are a challenge. It isn't just the physics, and clicky-clack noises that make them fun. It takes compelling and interesting goals plus fun and challenging skilled shots to really make them shine. That's where Jungle Style won't leave you hanging.
Building on their other great pinball games, GameProm Company really shines with this latest iteration. The game features a very "realistic" game board along with a nice smooth pinball feel. The objectives and challenges are just the kind of thing I need to keep my mind working while dropping the guinea pigs off at the humane society (I just made that up...it means shitting).
Even better, I'd go so far as to say that Jungle Style is an innovator! By bringing in the concept of a bigger, heavier "golden ball" they've helped to make the game even more of a delightful challenge. Couple the game with a full featured online leader-board and I'll be playing long enough to loose feeling in my legs.
I can honestly say I haven't played a mobile pinball game this good since Revenge of the Gator for the GameBoy (yeah, look it up...it's fucking amazing). That is why Jungle Style Pinball wins the 2009 Golden Sausage : Ultimate Pooper!