For Golden Sausage Rules and Category Descriptions
Click Me
.
---
World of Goo
World of Goo is cute, fun, and really addictive. 2DBoy has done a fantastic job of inventing a whole new type of puzzle game, while staying away from the overplayed "match three" style.
Everything about World of Goo oozes charm. From the sounds, to the graphics, you will be more than happy with your purchase.
For creating an excellent and original new game, World of Goo takes home the Bronze Golden Sausage : Fresh Beef.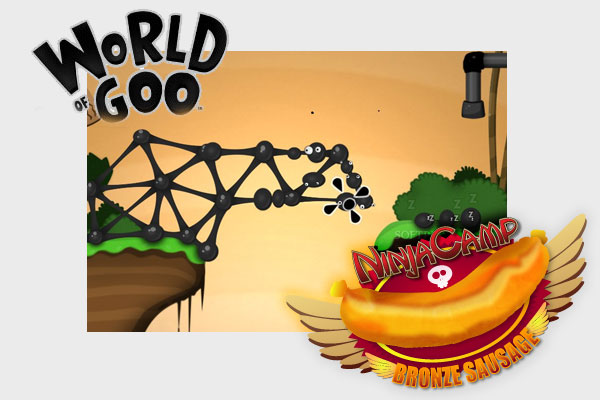 BIT.TRIP Beat
BIT.TRIP Beat is kind of like pong...in reverse...if you were "ponging" to create a sound track. Conceptually the game is super simple, but in practice it provides a nice little challenge.
The game provides a very fun single player experience, but the multi-player is where it's at! By allowing 1-4 players to take control of their own small paddle, BIT.TRIP Beat makes for quite a fun and friend-loathing experience. You will find yourself yelling "That one was yours!" quite a bit.
Sometimes the simple games are the best games, and that is why BIT.TRIP Beat wins the Silver Golden Sausage : Fresh Beef.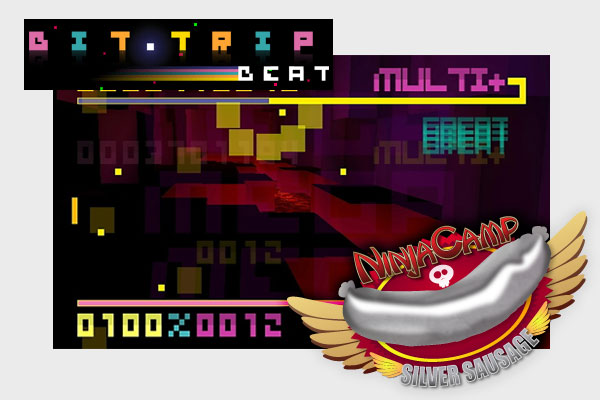 Borderlands
Have you ever wanted a first person shooter version of Diablo II? Personally, I didn't...but I got one anyway...and I love it!
Borderlands does an excellent job of bringing role playing into a kick-ass multi-player first person shooter. By using a dynamically generated weapon system and random environmental effects, Borderlands delivers a great experience.
This game made a strong run at Game of the Year, but just couldn't get past it's peers. Fortunately the Fresh Beef category allows me to express our enjoyment of this game by awarding it this years Golden Sausage : Fresh Beef.