I know our loyal followers are chomping at the bit for some fresh articles and our patented "super-biased opinions." However we have been combination busy, sick and lazy. Of course, now
that Ninja S runs the show
, I'll point out that this is all his fault!
Regardless, I did want to leave you with a quick update on what I'm currently playing. I got a little thing called
Dante's Inferno
and it's...well...it's fucking crazy.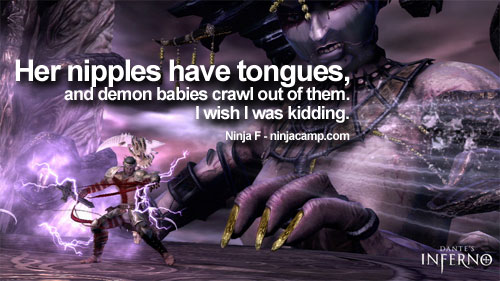 I won't bother with a full review cause I'm currently sick and of course lazy. I will tell you that it is a decent game. A game which could have been fantastic if someone would have said "let's polish this thing up before advertising during the super bowl." Sadly, EA's motto:
I don't give a shit about quality
ruins any chance for
Sausage Gold
.
That said, I am enjoying it and it is doing a fine job of filling the gaping hole God of War left...at least until next month.