A lot of people ask me, "How does NinjaCamp make money?" I of course promptly respond "Fuck!"
If you really must know, our current business plan calls for selling as much shit as possible whilst developing games. While we aren't quite kicking ass in either of those departments, we still want to shower you with as many items as possible.
So I'd like to introduce you to our latest product, the
Ninja Water Bottle/Sausage Holster
!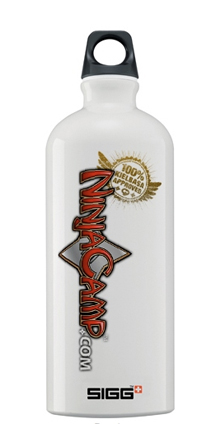 This all aluminum, piece of ass is primed and ready for your water or sausages. (You can tell that it's ready for sausages because of the stylish "100% Kielbasa Approved" badge!) Displaying the fine NinjaCamp branding you've all come to love, this bottle is sure to please!
So??? I know...amazing! Just buy one!