So the cat's out of the bag…yes, it's true, NinjaCamp.com gave Lil Wayne
a modded Xbox
!
Now before you be getting up on my shit…step off! We just a couple of ninjas trying to make it in this world.
You see, on top of running the tightest website the internet has to offer, NinjaS and I are in the business of bringing some extra bling to all of our rap star ninjas out there.
We've actually been doing this little side business for years. I'm surprised it took this long to hit the tubes. I guess, since the spinners are already rollin, we might as well introduce you to our current line-up of modded 360s.
This first box is flossin from grill to stripper pole!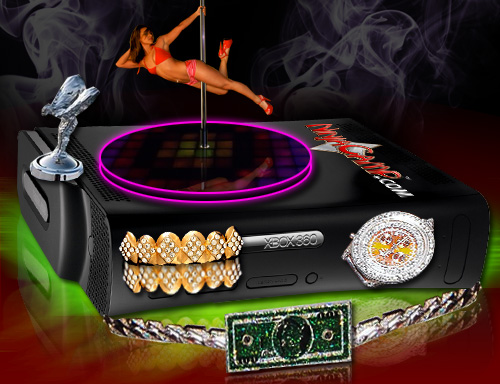 You're looking at our top of the line model,
Mister T's Delight
. Featuring enough bling to blind Stevie Wonder, this system is sure to impress. Your peeps will instantly know who's the boss with the 24-karat, diamond studded grill and matching Rolex faceplate.
Plus, nothing screams "classy" like a striper pole…and we've got you covered! This
hot box
comes standard with a regulation sized pole and young white girl named Candy who just loves it when you
make it rain
.
Next up, we've got just what the doctor ordered…hydroponics!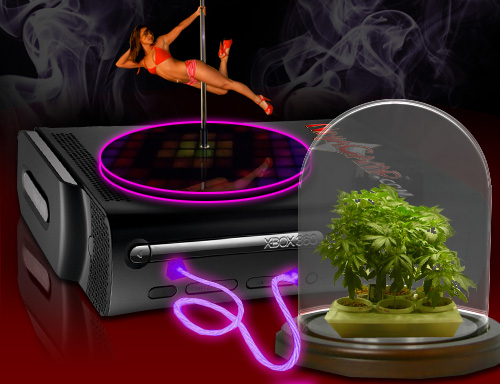 This
Green Machine
won't be lowering your electric bills anytime soon, but it will be pumping out five pounds of rapper-grade ganja weekly. Better yet, you don't even have to pay the stripper as she'll simply live off
grass
! This x-unit comes with an extra large water pipe, and *cough* *cough* medical growing prescription.
Finally, our most popular model, the
The Immortal
.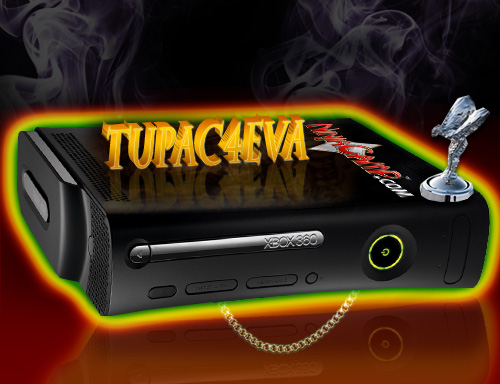 With looks that could stop a bullet, The Immortal arrives protected by a thick glaze of afro sheen. Designed for "rough play," we encourage you to
ghost ride the whip
with this
shawty
in toe. Featuring a solid platinum Rolls Royce emblem, the ladies won't question who's packin the kielbasa tonight!
Well, there you have it…our full line of rapper modded 360s. I think you'll agree, I love my ninjas!