I want to test out the comment system of the Salamaroni v1.0.1 site release, so we are giving stuff away!
We have the amazingly sweet, full-color, full-sex BlizzCon 2009 program along with the special edition Battle.net authenticator. In combination, these items should put any Blizzard fanboy into a down right comma.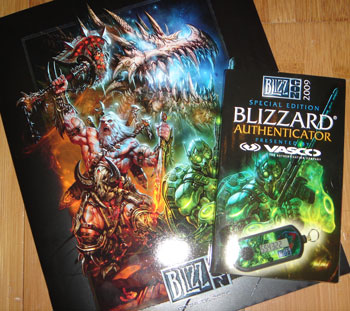 To win, you simply need to make a comment on this post (using a non-anonymous account) telling us what you love most about NinjaCamp.com.
We'll make a random pick on Monday, September 7th, then mail both of the items off to a location of your choosing.
Remember, use an account when posting so that you can actually receive your prize!